It'been a super busy week again with getting all the clubs ready and on top of that , doing heaps of dyeing and making Wooshy clouds for the Bristlecone Harry Potter Read and Spin a long on Ravelry.
It's been overwhelming response and so I have been doing little more this week than dyeing, packing cute fluffy Harry Potter parcels and doing some embroidery (yes, because I offered embroidery to the Harry Potter read a longers as well..see more of that later on this blog because I think you will love that as much as I do ).
I have to admit I was up most nights doing nothing else but that and doing spinning for custom orders….while watching Harry Potter movies or reading the books.
Ravelry is an amazing group of people from all over the globe and participating in these read and spin a longs not only introduces you to new friends and new ways of spinning and sharing but also, reading books together . I am still doing the Outlander series (Diana Gabaldon) and now the Harry Potter series have come on top of that.
I love reading ! It just transports you to this other realm and at the same time makes you think, philosophise and in this case share the experience with so many others. You may already know I am kinda weird..but I can be quite..well..let's say …extremely focussed ..lol…when I am doing something for a specific project I totally immerse myself in that atmosphere. I listen to the music (over and over again I might add to the annoyance of DH), watch the movie, read the book(s) ..its eating dreaming and experiencing that world. It sure makes it easier for me to translate the sights and sounds and all the information in the books into colours and colourways.
Every book , every movie has its own identity, atmosphere , mood and music. Colours are extremely important in conveying that world and when you look closely to the palet of any movies or books, you can find that author or directors use them very efficiently and are almost part of their signature. Take Tim Burton movies for example: his movies always seem to have this dark indigo blue overtone to them together with a grey and parchment wash; with the Harry Potter movies it's the same: it's almost a sepia wash and a gorgeous deep burgundy velvet (think of the wonderful display of the tapestries in the Gryffindor common rooms in the castle) over the whole movies with tones of indigo getting more and more intense and darker in tone to further you go into the movies and the stories get more intense and sinister.
A very easy example of it is the extreme changes that take place in the Wizard of Oz, where all the shots at the start of the movie in Kansas were in black and white and as soon as they are not in Kansas anymore….it is an overdose of technicolour !
Which brings me to the next step: Colours represent emotions or better still, evoke emotions. The hard part is the translation of a totally different non visual medium like a book or music and to translate that into colours. I think it is a lot of fun to do ! It is inspiring ! Everytime somebody asks me "how do I think these colourways up and do I have a recipe book ?" I say I don't have a recipe book or a production line type set up at all. Every colour I combine, every pigment that I blend into one another on the fibre or yarn or fabric is not only an expression of "just"colour..no, it's a colourful view into the working of my brain at that moment and time , being influenced by what I read, watch, hear and experience. It's a whole package, not just a bunch of blended fibres and colours together, it is so much more than that.
Same goes for translating music into say...weaving or knitting: I have even tried translating music directly into weaving. What? I hear you say? Yes! It can be done! Its fun and almost working in some secret code and the results can be mindblowing! You just have to say that the note C –E-B is shaft 1 for example, D-F-G is shaft 2, etc..the only limit is your imagination !
There is a direct correlation between Weaving-Music and Computers; it's all to do with translating the different languages so to speak and displaying the same message in different media!
For example: It was Herman Hollerith, who developed the punched card for the American census of 1890 and who founded one of the companies that in 1924 merged into IBM. Less well-known is that Hollerith's idea was derived from the punched cards used in the weaving industry since the 1700s. Hollerith's brother-in-law worked in the weaving industry. In the 18th century, the silk weaving industry in the Lyon area of France had to cope with stiff British competition and in order to meet the challenge, several methods were developed to automate the weaving of complex patterns. This culminated in the so-called Jacquard loom, after the French inventor, Joseph-Marie Jacquard (born in Lyons, France in 1752, into a family of weavers). Jacquard's system to program looms (first presented in 1801) was very successful and by 1812, there were already 11,000 Jacquard looms in use in France. Naturally, the British took over the system, giving their textile industry a tremendous boost. By 1833, there were about 100,000 power-looms in Britain applying Jacquard's idea. Here is a picture of a programmable Jacquard loom (photograph by George P. Landow):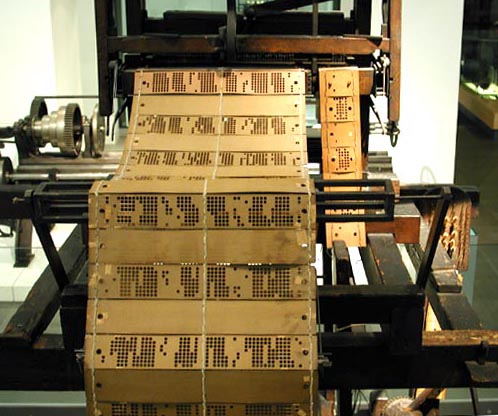 Until the 1890s, street organs had their music programs stored on cylinders with pins, of the kind everyone knows from musical boxes. Cylinders were expensive to make and could store only a limited amount of melodies of limited duration. So, the much more versatile and cheap organ books came into common use in the 1890s. The use of punched cards for mechanical musical instruments was already patented in 1843 in Lyon by Claude-Félix Seytre, but the first significant "book organ" was built by the Italian Anselmo Gavioli in 1892. The pages of the book mechanically move over a row of keys and which move up as soon as a punched hole in the book passes. The keys are connected to intricate pneumatic mechanisms to open (or close) an organ pipe (or to initiate some other instrument), so that, in fact, the punched holes in the book regulate the onset and durations of the various musical tones available on the organ.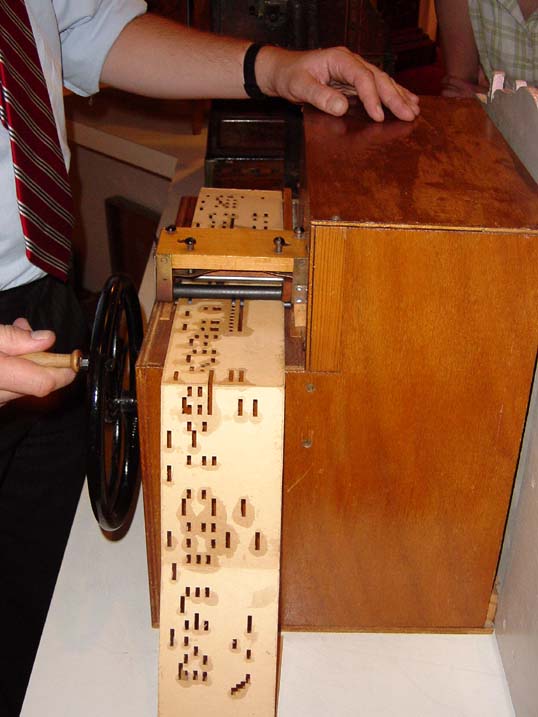 Here you can see a punch card system for an organ ( photo taken from National Museum Van Speelklok tot Pierement in Utrecht, the Netherlands).
So , in a way, everything is related isn't it? And there is definitely a way to translate the "different languages" into one . You can translate the holes in the punch cards to music or to various weaving patterns and patterns even in knitting. In the end : everything in life comes down to zeros and ones ……
This week I offer you some Wicked Tops after a huge amount of requests to make some more ! here they are ! and ofcourse the witches brew label for your bottle of spirits or water, to give it that bit of extra ….just in case you think your bottle looks a bit naked on the table ;-)

Please don't hesitate to contact me at any time if you have any questions okay? Always happy to enable. All my contact details are to be found at the end of this weeks blog entry. Have fun !!!

Wicked Tops
100+grams AU$24
A wonderfully wicked blend of Suri, Silk, Merino and 17micron Angora bunny.
it almost spins itself!
last of this years harvest so get it while its hot!
ultra super soft!
Lumos !-sold-
Indigo
Gringotts Vault
Walnut Rose
Rose
the flying car
Lupins transformation
peacock-sold-
Eucalypt
Nymphodora (less bright than peacock with a dash more light blue)
Elven Green
the Weasleys
Dobby
Wicked Threads Embroidery
Fun Embroidery patch to dress up any bottle and make it into your own Witches Brew!
AU$18
IxCHeL GIFT VOUCHERS !
Want to give somebody something special and still let them pick out their fav colour or fibre blend? Well, search no more: I offer an IxCHeL gift voucher package that is so hard to resist you even want to buy one for yourself ..lol Here's the deal:
AU$25 Personalised giftvoucher Pack
Comes with a personalised gift voucher and free post for the receivers first order in Australia and a $8 discount on shipping for the rest of the world!
AU$50 Personalised giftvoucher Pack
Comes with a personalised giftvoucher, free post for the receivers first order in Australia and a $8 discount on shipping for the rest of the world! ! and a cute badge a bunny photo and last but not least some amazing fluffy stuff in a gift pack
AU$100 Personalised giftvoucher Pack
Comes with a personalised Christmas giftvoucher, free post for the receivers first order in Australia and a $8 discount on shipping for the rest of the world! ! a badge, and last but not least some amazing fluffy stuff and yarn in a gift pack! Just let me know what giftvoucher pack you would like to gift to a friend or hey, you can even gift it to yourself ! And I will send you all the details.
Happy funny Badges to attach to just about anything: your craft bags, clothes, the perfect little gifts !
1 badge AU$2
Buy 10 for AU$18
20 badges for AU$35
30 badges for AU$49
every badge has a nr so when ordering just mention the nr of the badge and how many you would like..easy!
newest additions : badge nrs 84-90
Badges 1-20
Badges 21-40
Badges 41-59
Badges 60-83
How To Order:
1. You can email me on ixchel at rabbit dot com dot au or ixchelbunny at yahoo dot com dot au
2. message me on facebook or ravelry where I am Ixchelbunny.

I will email you right back with all your order details and payment methods.

Any questions? Any custom orders for yarn or dyeing fibre? Please don't hesitate to ask! Always happy to enable.

Thank you so much for your help and support !
((hugs))
Charly